A team of researchers from defense contractor Draper, MIT and the Woods Hole Oceanographic Institute (WHOI) have developed a new way to track unmanned underwater vehicles at long range.
Detection, classification and tracking are important for port security and the security of coastal and offshore operations, says Kristen Railey, a PhD candidate at MIT and the lead author of the paper. "However, identifying UUV signatures and using those signatures to estimate a UUV's speed for passive tracking is a relatively unexplored research area in comparison to other marine vessels," she said. 
Detecting an unmanned underwater vehicle (UUV) is normally done by picking up and characterizing the noise created by its propeller. In a busy harbor, this task is difficult because the background noise is often too complex for current methods to filter out. The standard approach is to apply a specialized processing technique called Detection of Envelope Modulation on Noise (DEMON). However, this method varies by vessel and does not always work well in shallow or congested harbor environments. 
The authors focused their study on micro-UUVs, which are less than six inches in diameter. Focusing on the high frequency acoustic signature of the brushless DC motors commonly used in these devices, the team designed a new method for determining a mico-UUV's propeller rotation frequency. In testing, they found that their method could pick up and distinguish this acoustic signature even when larger and louder boats were passing by – something that the DEMON method could not do. 
"Understanding the origins of acoustic noise in autonomous platforms can inform quieter UUV propulsion design to avoid interference with onboard sensors and disturbance to marine life. In the future, based on these findings, quieting techniques for [brushless DC] motors in UUVs can be compared and assessed," the authors wrote. 
Their paper is focused on micro-UUVs, but Draper says that the new method could also apply to other devices powered by mass-manufactured brushless DC motors. These motors aren't just found on electric watercraft – they are essential to electric vehicles, hybrid vehicles, electric aircraft and electric mobility devices. 
The latest benchmark Seafarers' Happiness Index from Mission to Seafarers sounds a dark note as the COVID-19 pandemic and the crew change crisis drag on. Overall index scores last quarter were up slightly, but individual written responses reveal "a real sense of resignation and antipathy" due to heavy workloads, extended contracts, stress and uncertainty. 
According to Mission to Seafarers, many respondents say that they do not feel appreciated or understood by the home office, and they are "losing faith" in the systems designed to protect their wellbeing. The onboard culture on many ships has become cynical, with expectations that things will get worse. Many are afraid to speak out for fear of losing their jobs, while others report that they are quitting the industry altogether out of frustration. One year into the pandemic, some respondents expressed weariness with the industry's balance between rhetoric and action on crew change. "Words are cheap, we need flights home," one seafarer wrote.  
"No one seems happy at all at the moment, and how could they? I am stuck on my ship, it is the hardest time I have ever known, even after 30 years of seagoing," one respondent wrote. "We do not know when we'll be relieved, and even if and when we do, then we will be at home perhaps stuck with no work."
The survey also drew negative responses about travel and quarantine measures in the COVID era. Seafarers have been particularly affected by travel restrictions, and many nations have set up special testing and pre-travel quarantine requirements for their movement. Some seafarers have reported that these measures have resulted in substandard, frustrating and "degrading" treatment in the process.
In addition, hours of rest violations have always been common, but they now appear to be on the rise. Many seafarers reported long hours and altered paperwork to cover it up. "It is normal for us, and everyone knows what goes on. Port State Control never really checks, and never follows up on what we write, so the system keeps on," one respondent wrote. 
Many seafarers also reported that a rush to train up in advance of the IMO 2021 cyber regulations has not been "matched by investment elsewhere," and that the training is undermined by poor shipboard system security and equipment. 
The upside is that some vessel operators have been trying to improve quality of life on board, even when it isn't possible to carry out a crew change. Better satellite internet access, better food, and better budgets for crew welfare have drawn praise from seafarers who benefit from them. "Small gestures mean a lot, especially in difficult circumstances. The companies which find the budget for new equipment, or who are able to improve the facilities onboard, gain a huge amount of respect from crew," Mission to Seafarers wrote. 
Wind assisted propulsion is continuing forward as one of the technologies being explored to improve operating efficiency and the environmental performance of the shipping industry. In the latest example, a Dutch flagged general cargo ship began testing a new installation of two new compact fixed-wing units that can be easily moved into position or stowed.
The Frisian Sea, a 6,477dwt general cargo vessel. Made its maiden voyage to Vasteras, Sweden with the VentiFoils in operation. Owned by Boomsma Shipping, the eight-year-old vessel, which measures 388 feet in length, was retrofitted with the wind technology as part of a pilot program with eConowind. The installation was completed during a port call in Harlingen.
During the first voyage the Ventifoils were deployed and they also stowed them during the loading of the vessel. Start-up tests commenced on the systems and in the coming months they will be training the crew while optimizing the system and operations. 
At sea during the first voyage after the technology was installed – Boomsma Shipping
Tessa Remery, project coordinator, explains, "With the help of the Wind Assisted Ship Propulsion (WASP) project, part of the EU Interreg North Sea region program, we will now test the performance during the coming two years. This innovative technology has to work in our daily operations with various wind conditions.  We hope to find savings to be in the region of 10 percent."
The VentiFoils (Wind Assisted Ship Propulsion Units) are designed as optimal compact (non-rotating) wing profiles, creating superior thrust by means of the principle of boundary-layer-suction, for which ventilators are mounted inside the VentiFoils. Due to the generated thrust by the unit, the thrust of the propeller can be reduced to maintain the same speed leading to fuel savings and emission reductions. 
"The installation of the Flatrack solution was relatively easy," said Ton Boomsma, co-owner and CTO of the company. "We now expect they will give optimal results on our ship. Once the crew gets some experience, we expect no trouble in handling the systems using our hatch cranes."   
One of the elements of the Flatrack design is the flexibility of a container, being movable by the hatch crane. It also needs limited installation time and has the possibility for use on several vessels.  With this system, the units can be positioned just in front of the superstructure during loading.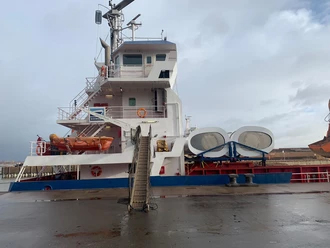 Stowed during loading – photo courtesy of Boomsma Shipping
 
Based on the experience with the Boomsma prototype, eConowind expects to make the product available to a broader range of vessels.
The WASP (Wind Assisted Ship Propulsion) project was funded by the Interreg North Sea Europe program, part of the European Regional Development Fund (ERDF) and brings together universities and wind-assist technology providers with ship owners to research, trial, and validate the operational performance of a selection of wind propulsion solutions.
The Human Rights at Sea Arbitration initiative, a collaboration between UK-based independent charitable NGO Human Rights at Sea and the international arbitration practice of global law firm Shearman & Sterling LLP, has entered a new phase of its work towards the creation of an arbitration-based mechanism to address human rights abuses occurring at sea.   
Established in 2020, the Human Rights at Sea Arbitration initiative seeks to establish a standalone, institutional system of international arbitration that is specifically tailored to the sensitivities and complexities of human rights at sea issues. A central feature of this system is that it will put the enforcement of human rights in the victim's hands by giving the victim the right to bring claims directly against alleged responsible parties. The foremost aim of this design – and of the initiative more generally – is to provide victims of human rights abuses at sea with access to an effective remedy, while at the same time combating impunity for the perpetrators of such abuses.
Throughout 2020, the initiative focused mainly on the conceptual underpinnings of an arbitration-based system for addressing human rights at sea issues.  This first phase kicked off with the initiative's publication of a White Paper on March 24, 2020 (available in English and French), which set out the essential contours of a Human Rights at Sea Arbitration system.  This led to further blueprinting efforts, including through a series of dedicated colloquia: a June 3, 2020 presentation by Dr. Yas Banifatemi, partner at Shearman & Sterling and the firm's Global International Arbitration Practice Group Leader, in which she explored the interplay between international arbitration and human rights (accessible here); a July 9, 2020 webinar hosted by the initiative, where leading experts in arbitration, human rights and shipping considered some of the main challenges the initiative will face (accessible here); and in October 2020, a panel organized as part of the American Branch of the International Law Association's International Law Weekend, which explored how a victim-driven system of human rights arbitration could improve human rights protection at sea.
In September 2020, "Human Rights at Sea Arbitration" website was launched to document each stage of the initiative's development and to serve as an online sounding board for the exchange of ideas, a repository of relevant research and writing, and a medium through which future events and opportunities for collaboration will be announced.  
With the research, analysis and blueprinting accomplished in 2020 as a foundation, the initiative is now turning attention to creating the first elements of what it is hoped will ultimately become a standalone arbitration system for resolving human rights at sea disputes.  These first elements include a model offer of consent to arbitrate human rights disputes that can be given by States, as well as model arbitration clauses for use in employment and other contracts, both of which are expected to be ready for publication in the first quarter of 2021. The initiative is also in the process of developing a set of dedicated arbitration rules that could be used for the resolution of human rights at sea issues, for publication later in the year.
Human Rights at Sea CEO, David Hammond, commented, "2021 will see significant developments refining this vitally important joint initiative for establishing a new and innovative route to effective remedy for victims of abuse at sea."
Dr. Yas Banifatemi, partner at Shearman & Sterling and the firm's Global International Arbitration Practice Group Leader, added, "Providing all victims of human rights abuse at sea access to a fair and adapted legal process is our priority. The Human Rights at Sea initiative is delighted to embark on this new phase of work and to create the building blocks of a neutral and efficient forum to resolve human rights at sea disputes."
Diamond Offshore Drilling, has become yet the latest rig operator for the energy industry to announce a comprehensive restructuring package for its troubled operations. After years of decline due to the drop in oil price and companies reducing their exploration efforts, many in the industry sought debt relief or filed for reorganizational bankruptcy.
Diamond and certain of its subsidiaries filed voluntary petitions for reorganization under chapter 11 of the U.S. Bankruptcy Code in April 2020. At the time, the company said it had sufficient short-term capital to continue its operations, which include 15 offshore drilling rigs, while the company and its advisors pursued negotiations with its key stakeholders regarding a comprehensive restructuring plan to address the capital structure. 
The company announced that it has entered into a plan support agreement with holders of over 70 percent of its senior unsecured notes and revolving credit facility loans. The financial restructuring transaction will significantly deleverage the company's balance sheet clearing the way for Diamond to emerge from bankruptcy protection.
The plan was developed through discussions with the company's key stakeholders, and is designed to ensure that Diamond can continue to operate its fleet, consisting of 11 semisubmersibles and four dynamically positioned drillships, in what the company continues to describe as a "challenged market."
"The comprehensive plan support agreement we signed today raises new capital and is overwhelmingly supported by our banks and our bondholders," said Marc Edwards, Chairman, President and Chief Executive Officer. "We look forward to emerging with a stronger balance sheet, significantly less debt, and increased financial flexibility. With our improved capital structure, we will be in a strong position to capitalize on market opportunities as they emerge."
After the restructuring, Diamond will have a strong cash position with sufficient liquidity. The plan includes a reduction of $2.1 billion in debt by converting the senior unsecured notes to equity in the company. Some of the bondholders will invest up to $110 million of new capital in new notes while holders of revolving credit facility loans will provide new financing facilities of between $400 and $600 million.
 
There is little doubt that the cruise industry has been the maritime sector most affected by the COVID19 pandemic. While other consumer-driven travel and entertainment industries have been allowed to operate, the cruise industry faced mandatory "no sail" orders by the U.S. Centers for Disease Control (CDC) and other authorities worldwide.
It is therefore little wonder that the economics of the sector went into a vortex since the spring of 2020, and by the summer, they had reached bathyspheric depths. The shares of publicly-listed cruise companies had lost as much as 80 percent of their value in a few short months, corporate loans had to be re-negotiated, and, indicatively, Carnival's secured bonds were yielding more than 12 percent by the end of April. The future seemed bleak, indeed.
With an unknown time horizon for when cruise ships could sail again, the cruise lines went into a strict cash preservation mode, cancelling any planned drydocks and other capital expense commitments in 2020. They also sold several of their older cruise ships at mind-bogglingly low prices. As a result, cruise ship prices have collapsed: in one example, two cruise ships were under contract to sell in January 2020 at more than $50 million each, and by summer they could not find a buyer at a greatly reduced asking price of just $18 million. In all fairness, there have been a couple of sales of comparable vessels that were sold at approximately $30 million, so cruise ship asset prices in 2020 were highly transaction and circumstance driven (and likely "animal spirits" driven) rather than determined by actual market forces. This wide range of values made the appraisal of cruise ships an elaborate and sometimes contentious process.
By now, there seems to be a reasonable time frame for a COVID19 vaccination plan, albeit one that will take several months to implement. Unfortunately, this timing is not soon enough to salvage the tourist season in the northern hemisphere, given that several months of lead time is required. At least we can tell now that there is light at the end of the proverbial tunnel, and a market recovery may be seen in a distant summery Fata Morgana.
Still there are cruise ships for sale at low prices, and many an entrepreneur has looked into buying such vessels in the hope of an asset play and a quick profit. If you are buying relatively good ships at scrap-related prices, it would be a fairly favorable asymmetric bet to make money on a market upswing. However, financing has kept many of these entrepreneurs for accessing the market, as traditional shipping debt is not available for such speculative acquisitions. There have been alternative capital funds that seem keen to finance such ventures, but at a cost: valuation and lending at scrap-related levels, non-negligible lending costs (between 5-10 percent interest for a mortgage structure) and a cut of the profits. Interestingly, as 2020 progressed, a few smaller European banks grew more comfortable with their boutique cruise line clients and offered them legitimate ship mortgages to finance acquisitions of cruise ships offered for sale from the big players. (Nota bene: these were existing clients and operating companies—and not speculating investors— and they often offered the added bonus to these lending banks that their operating clients were replacing older cruise ship tonnage with newer and more competitive tonnage). 
It will be a while before we can say that the cruise ship market and its financing prospects have normalized. However, signs of thawing and improvement are discernible now: Carnival's secured notes have seen their yield drop from 12 percent to about five percent, a swing from the default to investment grade territory in just six short months.  Furthermore, Carnival managed to issue more than $1 billion in unsecured notes in early winter at favorable terms. (It also managed to upsize the deal and lowered the coupon to eight percent for unsecured offering). In a further sign that investors are recovering their faith in the market, just a few days ago Royal Caribbean announced the sale of their Azamara Cruises subsidiary to Sycamore Partners in an all-cash, carve-out transaction valued at $201 million.
After 9/11, the cruise sector also saw a precipitous drop in demand – so much so that many people thought that the cruising concept had reached a terminal destination. In retrospect, the cruise line sector has outperformed the commodity shipping market ever since, and under most market conditions. Unless there are factors that have not been properly quantified yet, it would seem that the cruise sector still stands a very good chance of outperforming commodity shipping and offering higher returns to investors.
A winter storm is adding to the challenges for the Southern California ports and the backlog of shipping waiting for space in the ports. Many of the ships anchored off the San Pedro Bay port complex decided to head to sea on January 25 to ride out the storms.
"We cannot recall a more complex situation with this many vessels and this bad a wind and sea condition, for such a sustained period of time (anticipated 21 hours).  It was a busy night, but we and all port partners are on it," wrote The Marine Exchange of Southern California in a Twitter posting. The ninety-plus-year-old, non-profit organization is dedicated to the development and efficient flow of maritime commerce throughout the region.
They reported on January 24 that 105 ships were in the ports of Long Beach and Los Angeles an increase of five from the prior day. However, the storm was especially challenging for the 49 vessels at anchor off the ports. This included 33 containerships. Six of the vessels had been scheduled to move into the ports on January 25.
Heavy weather protocols were enacted at 2:00 a.m. local time on January 25. The forecast was for heavy winds.  Stormy conditions with 30 knot sustained wind with gusts to 55 and as much as 17-foot seas we being experienced across the region.
As a result of the storm, The Maritime Exchange reported that many scheduled movements did not happen. In addition, 17 ships got underway from the anchorage and went to sea. This included 14 containerships, two tankers, and one idled cruise ship. "The pilots and tugs are doing a masterful job of arrivals and departures in these conditions," The Maritime Exchange said.
A total of 31 ships decided to ride out yesterday's storm at anchor while an additional 86 ships remained in the two ports.
Weather conditions improved today in the ports and normal operations were continuing.  However, with an additional 28 containerships due to arrive during the remainder of the week, the delay in port operations is expected to continue. Recently the Port of Los Angeles reported that 80 percent of the arrivals have had to wait at anchor an average of four days due to congestion at the terminals and in the port.
The ongoing shortage of containers that started in the second half of 2020 has been one of the big challenges for shippers and carriers alike. While some forecasts expect the container shortage to continue well into 2021, a new analysis by Container xChange, a platform to buy, sell and lease containers, shows a positive trend in availability. They are suggesting that the upcoming Chinese New Year holiday period could be the turning point.
The container shortage began in mid-2020 as the demand for goods grew in the wake of the first wave of shutdowns around the globe. As containers grew more difficult to locate, prices skyrocketed to record highs, and shipping lines imposed equipment surcharges.
Container xChange is reporting a positive trend for its Container Availability Index. Developed by Container xChange, the index tracks millions of container moves to monitor and forecast equipment availability. 
"An index of 0.5 describes a balanced market, below 0.5 a shortage of containers", according to Dr. Johannes Schlingmeier, CEO of Container xChange.
To illustrate how tight the situation became in major ports they highlight Shanghai, a city they say is traditionally known for a deficit of containers. The index reached record lows in December 2020 of 0.13 for 40DCs and to an even lower 0.08 for 40HCs. That represented a decline of 75 and 83 percent compared to equipment levels in the first quarter of 2020.
"With a growth of 37.5 percent for 40HCs and even 200 percent for 40DCs in January compared to December 2020, the Container Availability Index finally shows a positive trend for shippers and forwarders who are looking for equipment in Shanghai," says David Amezquita, Head of Data Insights at Container xChange.
The index is showing a return to normal levels in Shanghai and other major ports across China.  In Qingdao, the index shows a balanced equipment situation. Similarly, at other major hubs across Asia, including Singapore and Port Klang, the Container Availability Index shows the same trend. Compared to December 2020, container availability is up 58 percent in Singapore and 54 percent in Port Klang across standard container types in January 2021.
Looking at the forecasts, Container xChange says the indications are that the equipment situation will remain stable in the coming weeks. Until mid-February, the Container Availability Index will settle at around 0.35 for 20DCs and even 0.38 for 40DCs.
The positive container availability trends prove that actions taken by the shipping lines are working says Container xChange. They reported that the aggressive repositioning, which has grown by 125 percent in December on their online platform, along with the increased number of newly built containers contribute to normal availability levels again.
=Searches are continuing for a fourth day in the Java Sea looking for five missing crew members from a tugboat that was involved in a collision near Surabaya. A total of eight crew members were rescued after the accident, but the authorities now fear the missing crew was trapped in the tugboat which capsized after the accident.
The Indonesian-flagged tugboat the Mirta Jaya XIX was operating in the Java Sea towing a barge inter-island loaded with palm oil. There were eight crew aboard the tug and three aboard the barge.
In the early morning hours on January 23, the Indonesian-flagged containership Tanto Bersinar, which had sailed from the Port of Tanjung Perak in Surabaya, collided with the tugboat and barge. Contact was lost with the tugboat and it was located that afternoon five nautical miles from the point of the accident. The tug had capsized and was floating upside down. Three crew members from the tug were recovered from the water by a passing fishing boat. 
The 17,785 dwt containership is operated on inter-island service by Tanto Line as part of a fleet of more than 50 containerships supplying service in Indonesia. The 22-year-old vessel has a capacity of 1,005 TEU.
The barge remained afloat but separated from the tug and leaking. The Indonesia Navy along with the SAR rescue squad from Basarnas and other local maritime authorities were all reported to be assisting in the rescue operation. The three crew aboard the barge were rescued and the barge was successfully towed to shore. The containership reported that it was undamaged from the incident and returned to the anchorage in the inner harbor.
A SAR rescue vessel has been searching the waters looking for the missing crew, while the tugboat was pulled closer to shore. Eight divers from the Surabaya SAR Office Operations Section were diving on the tug attempting to locate the missing crew either aboard the vessel or the waters around the boat. 
A spokesperson for the SAR office briefing the local media reported that heavy currents and cloudy seawater were hampering their efforts. They said underwater visibility was limited to about one meter. Divers who had been able to reach the tug reported that it was tilted and partially buried in the seafloor. When they reached the door to the cabin it appeared to be locked.
The SAR officials said that they had the option of either bringing in a crane to attempt to pull the tugboat to the dock or that they might attempt to reposition it in deeper water to access the cabin. 
 
In an exclusive agreement between a leading pharma manufacturing company based in Singapore and AlphaRize Management Ltd. to distribute rapid result COVID-19 testing kits, one of the major barriers to solving the crew change crisis is solved. The Rapid Antigen Test Kit offers a quick testing kit for crews pre-joining a vessel as well as departure and arrival at ports to avoid delays in obtaining Free Pratique. This could be the game changer in safeguarding seafarers onboard and controlling surprise expenses related to COVID-19 (delays, demurrage, missing laycan and more). It also provides assurances of health to port state countries working to protect their citizens while keeping commerce moving.
The Rapid Antigen Test Kit is European Union CE certified and far superior to any other product on the market with the potential to revolutionize the way COVID testing is being conducted globally, as it targets every pertinent issue plaguing the testing space: ease of use, availability, efficacy and cost. Many countries are looking to get priority access to such kits, especially considering the renewed urgency brought upon by the new mutation of the virus. 
The Rapid Antigen Test Kit does not require lab equipment as everything needed to conduct the test is in the box and can be carried out by designated Medical Officer on board. It is a saliva / sputum-based test versus the common uncomfortable nasal or throat swabs and provides results in 15 minutes instead of 1-3 days as per current practice and are extremely accurate with high sensitivity of 95%+ and specificity of 100%. The Rapid Antigen Test Kit has European Union certification already in place (CE certified) with additional certifications in process in the UK and USA, and also detects the mutant strains which are emerging.
Instant results mean that prompt decisions can be made onboard with regards to further testing & isolation of confirmed cases. Additionally, this ensures better management of infected individuals, since results are available within 15 minutes which reduces the risk of an infected person passing on the infection to others onboard while waiting for test results. It will also give greater confidence to onboard staff when dealing with visitors and on-signers. There are extensive onboard uses possible during a voyage, before arrival, after departure, for shore-based visitors, before and after shore leave which provides comfort for vessel owners, managers and operators, as it reduces the level of uncertainty with regard to the number of infections that may be passed on through external sources. 
"The key to fighting Covid19 onboard is prompt identification, isolation and treatment as required" stated AlphaRize's Managing Director, Mitul Dave. "Consider the benefits if this test is conducted for all crew members just before departure along with pre-departure 'DRUG AND STOWAWAY SEARCH'. The Master and Ship Manager will be in a better position to make decisions with this early warning tool. It would also improve a country's acceptance of crew changes due to the certainly of negative infection. In a nutshell, this product solves the issue of accurate rapid testing being made available, in a non-invasive way without long lead times for results, at a very affordable price." 
AlphaRize Management Ltd. has sector exclusivity with the roll-out of the Rapid Antigen Test Kit for the maritime community. Despite countries' demand for this solution, they are intent on securing a supply for the shipping industry to help relieve the crew crisis.