In 2013-2014, three newly established Mozambican companies took out a $2.2 billion loan. They all had links to people in the inner circle of former Mozambican President Armando Guebuza, and the Mozambican government was secretly listed as a guarantor – without the parliament's approval.

One of the companies is state-owned EMATUM (Mozambique Tuna Company), which allegedly was to receive some of the cash to procure tuna fishing boats. The rest would go into the construction of a shipyard in Maputo and maritime security projects along the country's coastline.

According to auditors, $500 million of the money reportedly went missing. The secret loans saga would quickly precipitate into a fiscal crisis, and in 2017, Mozambique defaulted on $727 million of bonds, causing its currency to plunge. IMF and other foreign donors at the time also withdrew aid when the fraud surrounding the loans emerged.

Credit Suisse bank has been under investigation by UK and US financial authorities, since it arranged for the loans. The authorities blamed the bank for inadequate controls to reduce the risk of fraud, despite having knowledge of the likelihood of bribery related to government projects.

In addition, a contractor allegedly arranged for kickbacks totaling $137 million, including $50 million for Credit Suisse bankers, according to documents obtained by the regulators.

On Tuesday, Credit Suisse Securities Europe Ltd (CSSEL), a unit of the bank, pleaded guilty to a single charge of conspiracy to commit wire fraud at a hearing in Brooklyn Federal Court. The parent company, Credit Suisse AG, also entered into a three-year deferred prosecution agreement with the U.S Justice Department. 

The settlement includes a $247.5 million criminal fine paid to the U.S. Justice Department, which will be reduced to $175.5 million after crediting payments to other authorities; $100 million paid to the U.S Securities and Exchange Commission; $200.6 million paid to UK's Financial Conduct Authority; and the forgiveness of $200 million in debt owed by Mozambique as a result of the loans.

Further, the bank will appoint an independent third party to review compliance measures for business in financially weak, high-risk countries, following enforcement action by Switzerland's Financial Market Supervisory Authority.

"Credit Suisse Group AG, through its U.K. Subsidiary CSSEL, defrauded U.S and International investors in connection with a lending project in Mozambique. Among other things, Credit Suisse AG, CSSEL, and their co-conspirators deceived investors by hiding information about the risk that the loan proceeds were used for illegal purposes in connection with the restructuring of the loan," said Assistant Attorney General Kenneth A. Polite Jr. of the Justice Department's Criminal Division.

In addition, 19 suspects – including Ndambi Guebuza, the son of Mozambique's former President Armando Guebuza – are on trial in Maputo on charges of blackmail, embezzlement and money laundering.

Go to Source
Author:

The hub ports of Los Angeles, Long Beach and Savannah may be visibly struggling under the weight of hundreds of thousands of imported containers, but that can't be said of all their neighbors. As dozens of ships stack up at anchor at America's busiest destinations for import cargo, other capable facilities are running under capacity and are calling for more traffic. 

At the Port of Oakland, some 300 nm to the north of LA/Long Beach, officials say that there have been no backlogs at all since August. But lines have continued to skip calls, and container volume actually fell by 13 percent in September – leaving plenty of room at the pier.

"There's no congestion at the Oakland seaport, and we're ready for more business," Port of Oakland Maritime Director Bryan Brandes said in a statement. "We need ocean carriers to reinstate services in order to stabilize the supply chain, and our import and export partners echo this sentiment."

The port struggled over the summer with a longshore labor shortage and a crane construction project, and carriers responded by skipping calls. Those problems have now been resolved, the port said, but the vessel services have not yet returned. 

John Lee, the president of an Oakland-based forwarding company, suggested that there may be a strong financial incentive for carriers to omit Oakland. LA/Long Beach is too important to skip, so the wait time at anchor is baked in; once a ship finally makes it to the pier in LA/Long Beach, it makes fiscal sense to head right back to Asia, skipping Oakland but keeping the ship on schedule. (This also speeds up the return of empty containers to Asia, where boxes are in high demand for lucrative head-haul cargoes.) 

"We should see vessel calls and cargo volume recover in October and November," said port director Bryan Brandes.  "We have capacity in Oakland that needs to be put to use to help shore up the supply chain and support our economy."

At the Port of Baltimore, officials say that they are seeing more traffic because of congestion at other East Coast hubs. Over the past year, the port's container terminals have handled roughly two dozen unscheduled port calls for vessels that needed an alternate port. 

In addition, Baltimore has recently secured two additional vessel services totaling 21 ships. It is preparing for the extra traffic with four new Neopanamax container cranes, which will give it enough capacity to work two ultra-large boxships at the same time. 

"We are expanding and helping with the supply chain by attracting new services and container ships into the port of Baltimore so we can help alleviate the strain," said Maryland Port Administration Executive Director William Doyle.

Go to Source
Author:

After a surprisingly successful Chinese missile test in late July, the U.S. Navy is stepping up the development program for the Common Hypersonic Glide Body, the service's new ultra-high-speed strike projectile. 

Hypersonic weapons travel in excess of Mach 5, much like ballistic missiles; unlike ballistic missiles, they can maneuver and approach the target on a near-horizontal trajectory. This makes them exceptionally difficult to detect, track, intercept or evade. 

In order to get a hypersonic glide body up to speed, it is mounted to the top of a booster rocket and shot into space. The glide body maneuvers during and after re-entry into the atmosphere, returning to earth on a long, upredictable flight path. 

Russia put a nuclear-capable hypersonic glide body into service on an ICBM in 2019, and the People's Liberation Army deployed both a hypersonic anti-ship cruise missile and a hypersonic glide body in 2019. The U.S. has yet to field a comparable (unclassified) system, but it does have three publicly-acknowledged R&D programs. 

On Thursday, the U.S. Navy announced the successful completion of a "high operational tempo for hypersonics" flight campaign for its Common Hypersonic Glide Body / booster rocket combination, dubbed Conventional Prompt Strike (CPS). The U.S. Army plans to field the same missile in a different launcher as the Long Range Hypersonic Weapon (LRHW). The launches conducted on Wednesday included three sounding rocket tests, used for prototype system testing. 

A related test on Thursday was scuttled when the booster rocket failed, according to Reuters. 

Two related initiatives, DARPA's Hypersonic Air-breathing Weapon Concept (HAWC) and the U.S. Air Force's Air-launched Rapid Response Weapon (ARRW), are also in testing. Despite difficulties with rocket ignition failure, ARRW is budgeted for early production beginning in FY2022, which would make it the U.S. military's first operational hypersonic weapon.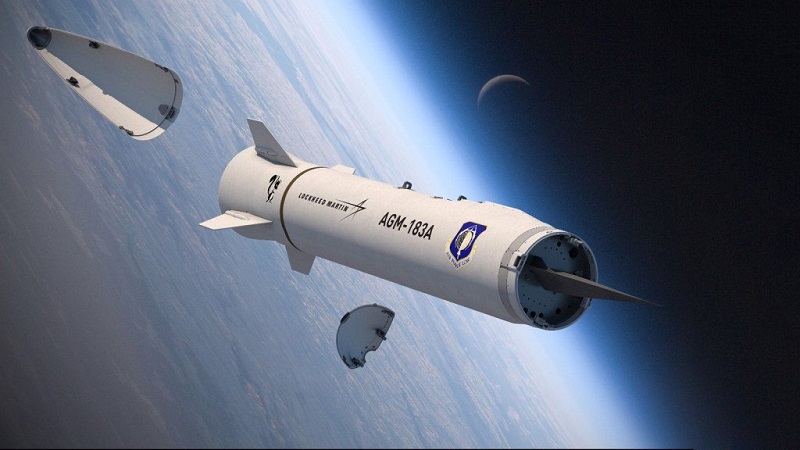 An AGM-183A booster sheds its nose fairing and prepares to deploy the Air-launched Rapid Response Weapon (ARRW) hypersonic glide body (Department of Defense illustration)

The accelerated pace of procurement may be related to developments in the Indo-Pacific. In late July and again in August, the People's Liberation Army tested an intercontinental ballistic missile system that leverages hypersonic technology for a strategic advantage.

According to the Financial Times, the PLA's Rocket Force launched a Long March rocket tipped with a nuclear-capable hypersonic glide vehicle on July 27 (and again on August 13). Instead of traveling in a line directly towards the target, the glide vehicle stayed in outer space for a partial orbit of the Earth before descending, "demonstrating an advanced space capability that caught US intelligence by surprise."

This flight path is known as "fractional orbital bombardment," and it is of concern to defense planners because it allows the incoming missile to arrive from virtually any direction. Intercontinental ballistic missiles are launched on the shortest possible Great Circle line between the launch site and the target, making a high arc through space; with fractional orbital bombardment, the warhead can make a very long, low-orbit journey in the other direction. For the U.S. mainland – which has a north-facing missile defense system designed to detect ballistic flight paths from Russia and China – this creates a new, hard to spot threat.

The fractional orbital bombardment concept is not new: it was invented by the former Soviet Union, which developed and successfully fielded a ballistic missile system that could complete a partial orbit of the Earth. It was placed into service in 1968 and decommissioned in 1982.

The PLA's tests appear to be the first time that the idea has been revived in decades. It is viewed as a potentially destabilizing technology, especially when coupled with a hypersonic glide body: its low altitude flight path and unconventional trajectory make the missile much harder to detect and defeat – ideal qualities for a first-strike nuclear weapon.

Go to Source
Author:

With the onslaught of vessels continuing to arrive off Southern California's ports and no signs of congestion easing both state and federal leaders are looking at all actions that can be taken to improve the flow of goods along the supply chain. California Governor Gavin Newsom signed an executive order marshaling the state's resources while reports indicate that the Biden Administration is looking at even more drastic measures to decrease the backlog.

The Southern California port complex set five new records yesterday alone, with the Marine Exchange of Southern California reporting that they expected the record levels to rise and then remain steady. In the October 20 update, they reported that 25 vessels of all types were scheduled to arrive in the next three days. This comes in addition to a record 161 vessels in port with a record 106 either at anchor or holding out at sea because the anchorages are full. The other records included 50 vessels in holding areas, including 39 containerships, and a total of 103 container ships either at berth or waiting offshore.

The Washington Post and CNN are both reporting that the Biden Administration has considered activating the National Guard in its efforts to reduce the backlog. The UK considered a similar step recently when it was also faced with a shortage of truck drivers to distribute gasoline. During yesterday's daily press briefing at the White House, CNN asked if the U.S. Navy might also be deployed, to which the response was that the Biden Administration was not removing any option from consideration.

At the state level, California's governor signed an executive order directing state agencies to identify additional ways to alleviate congestion at California ports. With the ports of Los Angeles and Long Beach at the epicenter of the crisis, Newsom directs state agencies to continue coordinating with the Biden Administration Supply Chain Disruptions Task Force while also ordering specific state actions. In the near term, the governor told state agencies to identify properties that could be used to increase storage capacity for containers, create additional workforce training and education programs to increase employment along the supply chain, and possibly most importantly to identify priority freight routes to provide more access at the ports for trucks.

California's Department of Finance was also directed to work with state agencies to develop longer-term solutions for consideration in the state's next budget that support port operations. The governor said this could include port and transportation infrastructure improvements, electrification of the goods movement system from port to delivery, and workforce development movement.

"California's ports are critical to our local, state, and national economies and the state is taking action to support goods movement in the face of global disruptions," said Governor Newsom. "My administration will continue to work with federal, state, labor, and industry partners on innovative solutions to tackle immediate challenges while also bringing our distribution processes into the 21st century."

Newsom's executive order builds on earlier efforts this year by the Governor's Office of Business and Economic Development (GO-Biz) to ease supply chain issues by engaging the diverse network of stakeholders along the supply chain to discuss key challenges and identify short-term and long-term solutions.

All of this comes as residents are complaining about the truck traffic and pollution increasing around the California ports. Residents' complaints were highlighted when a tractor-trailer earlier this week on a Los Angeles side street dumped an improperly secured container crushing a parked car. 

Go to Source
Author:

While global reports have indicated a strong overall decline in attacks and incidents against crews and their ships in 2021, cases of sea robberies, which in some cases are violent, persist in the Singapore Strait. While most of the cases involve the theft of spare parts and small equipment, in two recent cases the perpetrators were armed and one crew member was assaulted.

The ReCAAP Information Sharing Centre based in Singapore issued a repeated warning to ships to maintain their guard while transiting the region as all the recent reports were for vessels underway at the time. They are also calling for more enforcement by the states in the region and urgent reporting of incidents. 

"ReCAAP ISC is concerned with the persistent occurrence of incidents in the Singapore Strait, particularly an important cluster of incidents off Tanjung Pergam (22 incidents since January), and an increase of incidents off Nongsa Island (five incidents). With the six incidents reported in October, a total of 32 incidents were reported in the Singapore Strait since January 2021. As the perpetrators are not arrested, there is a possibility of further incidents in the Singapore Strait," they write in their update issued today, October 21.

 
ReCAAP's map shows the clustering of incidents in 2021 (ReCAAP Incident Alert)

 

The most recent boarding took place yesterday, October 20, when a Panama registered general cargo ship was underway in the Straits of Malacca and Singapore. The report was disturbing to ReCAAP because the crew of the Super Star reported that they saw five individuals in the engine room with two of them armed with guns. The alarm was raised on the ship and the intruders fled. The crew later reported that nothing had been stolen.

Five days earlier also in the same area, the chemical tanker Theresa II, registered in Singapore, reported that a duty oiler spotted seven or eight perpetrators armed with knives in the engine room workshop. The perpetrators tied up the oiler while they stole spare engine parts. As they were leaving the ship, they untied the oiler.

Two other incidents in the span of a week in October also involved intruders being seen in the engine room of vessels while they were underway in the Singapore Strait. However, in both of those cases, the boarders left the ship when the alarm was raised and in both cases no weapons were reported. The crews of the ships reported that nothing was missing.  In a third case, however, the crew of a bulk carrier discovered that some spare engine parts were missing but did not see any unauthorized individuals aboard the ships.

While armed robbery has been on the increase in the region in 2021, ReCAAP was able to report that there have been no incidents of abduction of crew reported since January 2020. Further, they believe that no crew is currently being held in captivity. "The threat of the abduction of crew in the Sulu-Celebes Seas and waters off Eastern Sabah remains high particularly in the areas of Sulu and nearby waters off Tawi-Tawi," ReCAAP writes in its weekly report. They warned that at least one of the Abu Sayyaf Group which has conducted the abductions in the past escaped during the last raid of the region in April by the Philippine Armed Forces.
 

Go to Source
Author:

The European Community Shipowners' Associations (ECSA) is continuing its criticism of the pending FuelEU Maritime regulations. The organization spoke out against the proposal in June 2021 and in a newly released position paper says while it supports the uptake of clean fuels, they fear that FuelEU may become missed opportunity due to enforcement loopholes.

"Even though an international solution for shipping would be preferable, shipping should contribute its fair share to address the climate crisis, at EU level as well," said Claes Berglund, ECSA's President. "ECSA supports the objective of the FuelEU Maritime proposal to foster the market uptake of cleaner fuels that are currently not affordable or commercially available. However, the proposal should be more consistent with other proposals of the 'Fit for 55' package and with the overall increased climate ambition of the EU." 

In the position paper, the organization with represents 19 shipping associations in the EU and Norway, says that it welcomes the increased focus on the climate and ambitions to achieve meaningful change. They recognize that the objective to foster the uptake of clean fuels is important and welcome the flexibility to meet fuel targets.

European shipowners the organization writes welcome the increased climate ambition of the Fit for 55 package, recognizing that the climate crisis is one of the greatest humanitarian, economic and environmental challenges societies are facing.

The ECSA, however, is concerned about what it sees as substantial enforcement loopholes that it believes undermine the environmental objects of the EU. They cite a lack of consistency with other environmental proposals, including RED and Refuel EU Aviation, specifically highlighting that the FuelEU Maritime makes ships and not fuel suppliers subject to the fuel standards.  They also cite that verification relies on paper documents and they believe the regulations create unnecessary administrative burdens.

Under the current proposal, ECSA highlights that enforcement for biofuel blends purchased outside the EU will rely only on paper documents provided by non-EU fuel suppliers. Using these documents to calculate carbon savings contributing to the EU's climate targets, they believe may create substantial loopholes and, ultimately, an enforcement minefield.

"FuelEU may become a missed opportunity for the uptake of clean fuels in the sector," said Sotiris Raptis, ECSA's acting Secretary General. "Making the EU fuel suppliers responsible for meeting the fuel standards will substantially address the enforcement concerns. Fostering demand is key and the EU ETS revenues, the carbon contracts for difference under the EU ETS innovation fund, and a higher multiplier under the Renewable Energy Directive should be used to bridge the price differential between cleaner and conventional fuels."

Flexibility is welcome, the ECSA says, but a new MRV system is unnecessary and burdensome. Finally, ships should not be penalized when an onshore power supply is not available in ports.

The ECSA is calling for robust enforcement by making EU fuel suppliers responsible for fuel standards as well as steps to bridging the price gap between cleaner and conventional fuels to foster demand for the new alternatives. They recommend sector-specific funds and investment of ETS revenues in the energy transition. They believe that the existing EU MRV regulation also provides a framework where the necessary information should be integrated.

The ECSA is just one of many organizations that have criticized the FuelEU Maritime and ReFuel EU Aviation initiatives. In the spring, 16 environmental groups and NGOs signed a joint letter to the European Commission saying to avoid the promotion of unsustainable fuels, the EC should have excluded biofuels and fossil natural gas from the initiatives. They instead called for a greater focus on green electro-fuels and the use of direct air capture for CO2.

Many of the objections to the FuelEU initiative center on the inconsistencies with other efforts. The verification methods and what has been called overly burdensome administrative requirements. 

The maritime and aviation proposals were published in July 2021 with public comment periods are concluding. The European Commission will summarize the comments and present them to the European Parliament and Council as the legislative debate proceeds.
 

Go to Source
Author:

On Wednesday, the crew of the icebreaker HMS Protector paid their respects to the thousands of Royal Navy sailors who helped put an end to the West African slave trade. They joined leaders of the island of St. Helena in a service of remembrance and thanks for the men of the West Africa Squadron – and the tens of thousands of slaves they liberated.

For more than half a century, the tiny island of St. Helena was the hub of the fight against slavers in the transatlantic trade. Under the Slave Trade Act of 1807, Royal Navy warships were empowered to board British-flagged vessels suspected of engaging in the slave trade. If the Royal Navy found slaves on board, it could impose a fine of  £100 per enslaved person, payable by the captain. A series of treaties with other European powers expanded the number of slave ships that the Royal Navy could board, and the British created a system of admiralty courts in West African ports to administer punishment. 

The challenges that the West Africa Squadron faced were stark: just a handful of small Royal Navy sailing ships had 3,000 miles of West African coastline to monitor, and they were up against armed, motivated and unscrupulous slavers. Often enough, interdictions would turn into naval battles. Among the losses was the ten-gun sloop HMS Waterwitch, which spent 21 years hunting down slave ships until one sank her in 1861.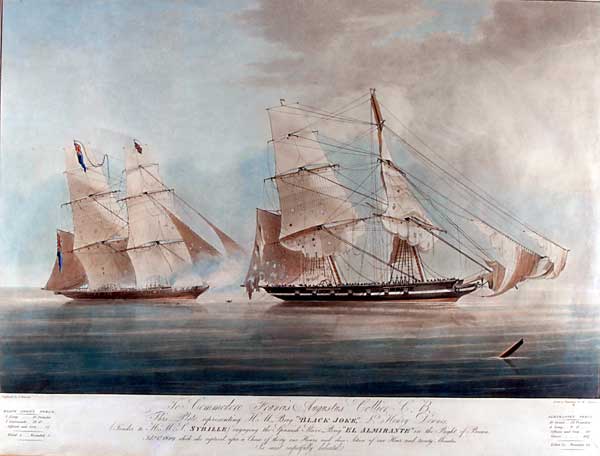 The captured slave ship-turned-warship HMS Black Joke attacks the Spanish slave ship El Almirante off West Africa (Nicholas Matthews Condy)

The cost to the Royal Navy was heavy: tropical diseases like malaria and yellow fever exacted a terrible toll on servicemembers, and about 1,600 British sailors died over the course of the five-decade campaign. It was also incredibly costly from a financial standpoint, absorbing up to half of the UK's naval budget and up to two percent of all government expenditures at its peak. 

From 1808 to 1863, the squadron seized about 1,600 ships and rescued an estimated 150,000-200,000 people from slavery. Though this represented just a tiny fraction of the estimated 3.2 million West Africans who were captured, enslaved and exported for profit over the same period, it was by far the most significant human-rights action at sea during the 19th century – and perhaps of all time.

Go to Source
Author:

[By: AST]

Global provider of intelligent remote communication solutions, Applied Satellite Technology Ltd (AST), is proud to announce it will showcase its wide-ranging remote connectivity services for the maritime industry, including for the first time, OneWeb as its Official Partner.

AST will present game-changing technologies and talk about how it is providing global intelligent connectivity services that enable digitalisation and decarbonisation solutions for a sustainable maritime industry. 

As AST prepares to celebrate 30 years of providing satellite communication solutions for operations, crew welfare and safety at sea, it recently announced its partnership with OneWeb, which will bring fast, flexible, fibre-like connectivity to seafarers globally.

In addition to presenting its portfolio of satellite communication services, whether L-Band with Iridium Certus® or the recently launched Intelsat FlexMaritime VSAT service, AST's team of connectivity experts will also highlight the benefits of its INTEGRA Services at Europort. 

Building on the success of its real-time application control service, INTEGRA Control, which enables best in class bandwidth management, AST will be launching its newest INTEGRA Service – INTEGRA Fleetview. This new service  empowers IT & Fleet Managers with a instant snapshot of data usage consumed by a vessel, of both the primary and secondary satellite communications and enables more awareness and control of satellite data use across all vessels within the operator's fleet. 

INTEGRA Services operate over AST's INTEGRA Network, a next-generation ground network that delivers reliable and secure end-to-end connectivity, optimised performance and includes INTEGRA CyberShield, AST's cybersecurity solution, which provides multiple layers of protection designed to shield businesses from threats that may put operations at risk. 

AST Group Founder and Chairman, Gregory Darling commented: 

"We are very proud to showcase our maritime expertise at Europort and share with our customers and partners how we are shaping the future of connectivity at sea through our commitment to innovation and strong strategic partnerships".

Visit AST and talk with their experts, at Europort exhibition in Rotterdam from 2 November – 5 November, in Hall 3, Stand 3304.
 

Go to Source
Author:

One of the challenges for the global shipping industry to meet targets for decarbonization is finding a solution to address existing vessels that permits them to economically convert to allow low carbon operations. Proman, one of the world's largest producers of methanol, together with shipping company Stena announced that they plan to develop a retrofit and supply solution to permit existing vessels to adopt methanol as their fuel source.

The companies estimate that currently, more than 70,000 vessels are operating around the globe. They are citing data that says unchecked, emissions from the existing fleet could increase by as much as 130 percent from 2008 levels by 2050. Transitioning to low-carbon fuels will be essential to secure the long-term future of the industry, but they cite both the lack of currently available technologies and the economic challenges for shipowners. 

In service vessels have an average lifespan of approximately 25-30 years, but the costs of conversions often outweigh the benefits. Hapag-Lloyd for example converted one of its containerships that was built LNG-ready to be fueled on the gas starting late last year. The line's CEO in interviews has said, however, the cost of the conversion went beyond budget and made future conversions uneconomical. 

Proman and Stena highlight methanol saying by offering immediate, and urgently required benefits, it is the only clear pathway currently available to a sustainable future. In addition to being a clean-burning fuel that reduces carbon emissions, they highlight that methanol's biodegradable and water-soluble qualities significantly reduce the risk to marine environments.

"We believe that methanol is a clear frontrunner in shipping's search for fuels beyond the fossil default and we are proud to be playing our part to help build the market for alternative fuels within shipping," said Per Westling, CEO Stena RoRo. "We converted Stena Germanica to methanol power in 2015 with another current partner, and that gives us valuable experience both from a conversion and operational perspective."

Proman and Stena are committed to jointly developing a retrofit and supply solution, enabling both Stena's approximately 140 vessels, as well as vessels operated by other companies, to experience the immediate environmental benefits and greenhouse gas emission reductions delivered by methanol.

The plans for the retrofit and supply solution build on the previously announced joint venture between Stena Bulk and Proman for methanol-ready tankers. The first of these vessels, the 49,900 dwt Stena Pro Patria will be delivered in early 2022, with a further three Proman-owned and mutually operated dual-fuel vessels due in 2023.
 
"Methanol is the only available alternative marine fuel that offers immediate emissions reductions, dramatically improving air quality and delivering a clear shipping decarbonization pathway for 2050 and beyond. Unlike other alternative marine fuels, methanol utilizes existing technology and is safe and widely available," said David Cassidy, Chief Executive of Proman.

By developing the solution based on their experience with methanol, the companies hope to make methanol more widely available to vessel owners around the world and help facilitate the transition to a cleaner shipping industry.
 

Go to Source
Author:

[By: ABS]

ABS is committed to accelerating new and innovative solutions that support safer and greener ways of operating, given the industry's digitalization and decarbonization needs. While the long term solution requires alternative fuels and energy saving technologies, the near term focus is on understanding your fleet's risk profile and improvement options to gain operational efficiencies.

ABS My Digital Fleet is the only customizable risk management platform for shipowners, operators, and charterers that seamlessly integrates data to provide real-time insights for driving sustainable operations and reducing operational risks. Users receive smarter and faster answers to critical questions like:
What is my vessel's carbon intensity indicator (CII) rating and how can I improve it?
What are the potential risks at my vessel's upcoming destination and how can I prepare for arrival?
How do I meet charter party requirements throughout my voyage while lowering voyage cost and emissions?
Which vessels from my fleet need attention today and why?
And many more! Connect with one of our digital specialists to find out why ABS My Digital Fleet is the right choice for you to manage operational risks and drive your decarbonization goals.
Go to Source
Author: