In another reversal for the U.S. Centers for Disease Control and Prevention, a federal appeals court ruled Friday that the CDC's "conditional sailing order" (CSO) will not be enforceable during the course of litigation in a suit brought by Florida. It is the latest twist in a series of rulings that temoporarily blocked the CSO, then reinstated it, then blocked it again.

The CDC imposed the CSO in March 2020 in order to prevent COVID-19 outbreaks on board cruise ships. The CDC was concerned by a rash of COVID outbreaks on board cruise ships and a number of COVID clusters on shore that were traced back to former cruise passengers. CDC effectively shut down commercial cruising, citing the risk that the close confines of a cruise voyage increase the probability that guests obtain the disease on board, then distribute it to their home communities when they disembark.  With the advent of vaccination, that calculus has changed, and the CDC has created a dual path for cruise ships to gain permission to sail

In June, a U.S. District Court judge ruled in favor of Florida in the state's effort to win a temporary injunction that would prevent the CDC from enforcing the CSO on cruise ships operating from Florida's ports. Because of Florida's probability of success on the merits of its case and the imminent threat of irreparable injury to Florida, Judge Steven Merryday enjoined the CDC from enforcing the CSO in Florida, effective July 18.

The CDC appealed Merryday's ruling, arguing that the CSO is helping to ensure an orderly restart to cruising and addressing the potential for a resurgence of the virus. The CDC noted the need to manage risk due to the confined spaces aboard cruise ships and the potential exposure to new variants of the virus during port calls.

Shortly before the injunction was set to take hold, the United States Court of Appeals for the Eleventh Circuit issued a temporary stay, blocking Judge Merryday's injunction and permitting the CDC to continue enforcing the CSO. However, the ruling lasted less than a week: on Friday, the same Court of Appeals ruled that CDC had not established an entitlement to lift the stay pending appeal. The decision means that the injunction is in force and the CSO is an unenforceable advisory paper, at least until the litigation is concluded.

"I'm glad to see the 11th Circuit Court of Appeals reverse its prior decision and free the cruise lines from unlawful CDC mandates, which effectively mothballed the industry for more than a year," said Florida Governor Ron DeSantis in a statement. "The importance of this case extends beyond the cruise industry. From here on out a federal bureau will be on thin legal and constitutional ice if and when it attempts to exercise such sweeping authority that is not explicitly delineated by law."

In a statement Friday, the CDC said that if cruise lines opt to disregard the rules laid out in the CSO, it will enforce its mask requirements for public transit on board their cruise ships. CDC previously issued an order that requires face masks to be worn by all travelers while on public transportation, including all passengers and crew on vessels transiting in or out of the United States. Masks are also required while indoors at U.S. transportation hubs, including seaports and ferry terminals. The agency has previously said that it will waive enforcement of its mask rule for vessels that participate in the CSO return-to-sailing plan.

Go to Source
Author:

The state of California has set aside $35 million for the Scripps Institution of Oceanography to design and build a new coastal research vessel with a first-of-its-kind hydrogen-hybrid propulsion system.

The new vessel will be dedicated to Californian research missions, and it will enable scientists to study and track a range of environmental concerns, including the health of marine fisheries, harmful algal blooms, severe El Niño storms, atmospheric rivers, sea-level rise, ocean acidification, and oxygen depletion zones.

The proposed 125-foot vessel will take three years to design, build, and commission. It will replace the R/V Robert Gordon Sproul, which has been in operation for nearly 40 years and is nearing the end of its useful life.

The hybrid-hydrogen design of this new vessel is a novel development. The ship will feature a hybrid propulsion system that integrates hydrogen fuel cells with a conventional diesel-electric power plant, enabling zero-emission operations. The design is scaled so that the ship will be able to operate 75 percent of its missions entirely using hydrogen fuel, which can be carbon neutral if provided by a renewable energy-powered electrolysis plant. For longer missions, extra power will be provided by diesel generators.

A feasibility study on the hydrogen fuel-cell propulsion technology for the vessel was completed in 2020 by Sandia National Laboratories, Glosten and Scripps, with funding from MARAD. It is possible that at its launch, it will be the first seagoing vessel of its kind in the world.

"Our vision is to build an uncompromising, fully capable oceanographic research vessel that can be powered independently from fossil fuels, and be free from the criteria pollutants and greenhouse gas emissions that diesel-powered ships emit," said Bruce Appelgate, associate director and head of ship operations at Scripps Oceanography. "In doing so, we hope to both serve our scientists and students while being a world leader for transformational change to clean, nonpolluting shipboard power systems."

The vessel will be fitted with acoustic Doppler current profilers, seafloor mapping systems, midwater fishery imaging systems, biological and geological sampling systems, and support for airborne drone operations. It will have enough space for up to 45 students and teachers on day trips.

Go to Source
Author:

On Thursday, salvors on the Golden Ray wreck removal project in St. Simons Sound, Georgia began work on the sixth cut through the vessel's hull. The last cut was completed on July 1, and the team has used the intervening three weeks for hoisting and removing the fifth section, then conduct a thorough overhaul of the cutting gear aboard the heavy lift barge VB 10,000.

Meanwhile, a debris removal team with a crane and grapple have pulled 46 vehicles and two moveable deck sections from the bottom near the wreck. The debris was loaded out onto a deck barge and will be transported to local scrapyards for recycling.
Crane and grapple remove debris from the water near the Golden Ray wreck (St. Simons Sound Incident Response)
 
With commencement of the sixth cut, the team is narrowing in on the end of the project at long last, after months of delays caused by broken cutting gear and a larger-than-usual fire inside the hull. (Fires and spills were an expected part of the removal plan.) Just three sections and two cuts remain until the Golden Ray is gone from Georgia's waters.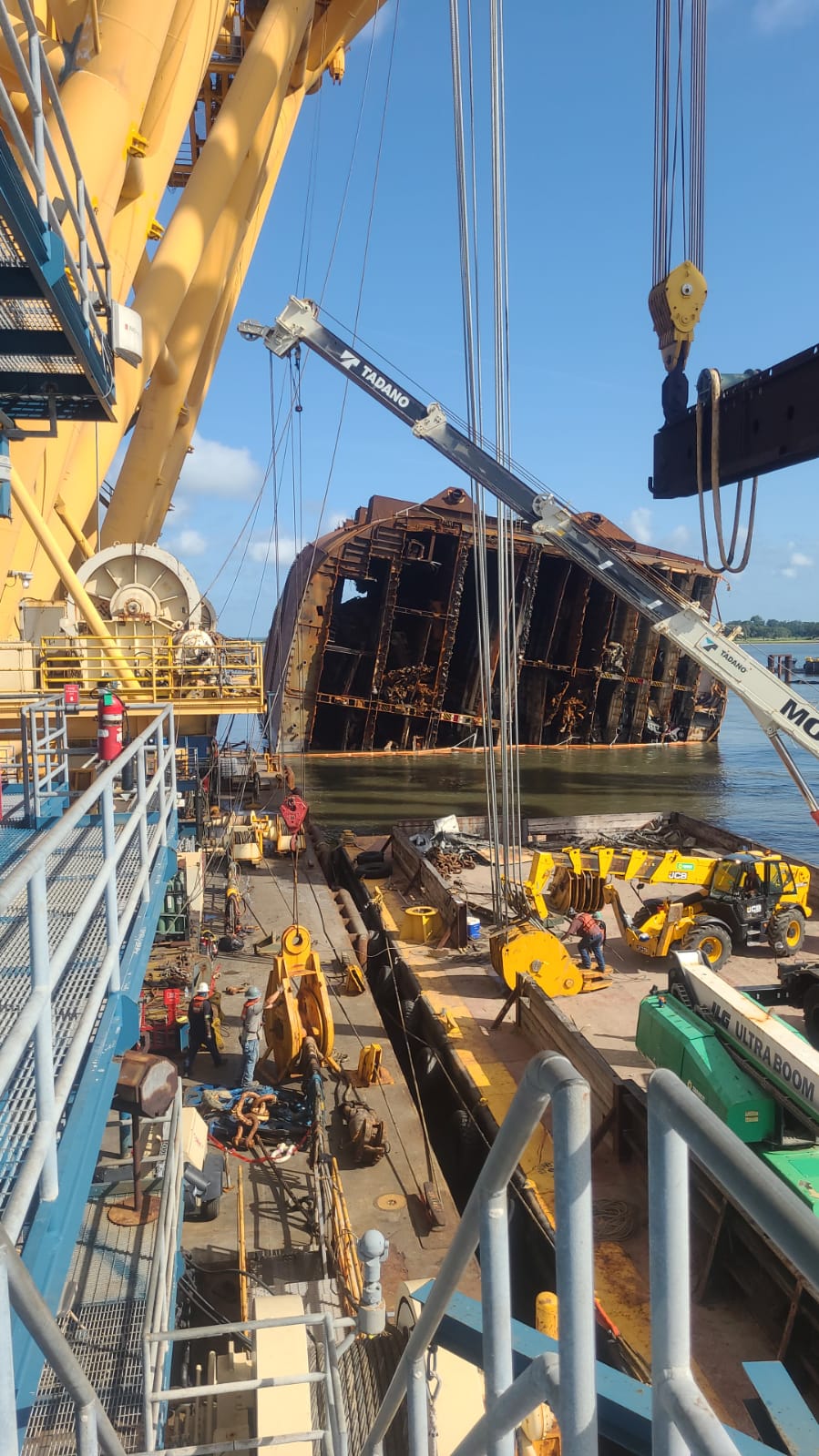 Shoreline crews continue to hunt down and remove drifting debris from Golden Ray and her cargo, along with a wide variety of other waste, from construction debris to post-consumer plastic trash.

The Golden Ray went aground and partially capsized in Georgia's St. Simons Sound in September 2019. During an outbound transit in calm conditions, a routine turn to starboard turned into an uncontrolled runaway maneuver, ending with the vessel aground and resting on her side. Lt. Ian Oviatt, a staff engineer at the Coast Guard Marine Safety Center, told the NTSB that the vessel had taken on too little ballast for her cargo load. "The cause of the vessel capsizing was lack of righting energy due to the way the vessel was loaded," Oviatt testified before an NTSB panel last September. "The vessel could have taken on additional ballast to be in compliance."

Go to Source
Author:

Offshore wind farms are an increasingly common sight overseas. But Australia has neglected the technology, despite the ample wind gusts buffeting much of our coastline.

New research released today confirms Australia's offshore wind resources offer vast potential both for electricity generation and new jobs. In fact, wind conditions off southern Australia rival those in the North Sea, between Britain and Europe, where the offshore wind industry is well established.

More than ten offshore wind farms are currently proposed for Australia. If built, their combined capacity would be greater than all coal-fired power plants in the nation.

Offshore wind projects can provide a win-win-win for Australia: creating jobs for displaced fossil fuel workers, replacing energy supplies lost when coal plants close, and helping Australia become a renewable energy superpower.

The time is now

Globally, offshore wind is booming. The United Kingdom plans to quadruple offshore wind capacity to 40 gigawatts (GW) by 2030 – enough to power every home in the nation. Other jurisdictions also have ambitious 2030 offshore wind targets including the European Union (60GW), the United States (30GW), South Korea (12GW) and Japan (10GW).

Australia's coastal waters are relatively deep, which limits the scope to fix offshore wind turbines to the bottom of the ocean. This, combined with Australia's ample onshore wind and solar energy resources, means offshore wind has been overlooked in Australia's energy system planning.

But recent changes are producing new opportunities for Australia. The development of larger turbines has created economies of scale which reduce technology costs. And floating turbine foundations, which can operate in very deep waters, open access to more windy offshore locations.

More than ten offshore wind projects are proposed in Australia. Star of the South, to be built off Gippsland in Victoria, is the most advanced. Others include those off Western Australia, Tasmania and Victoria.

Floating wind turbines can operate in deep waters. SAITEC

Our findings

Our study sought to examine the potential of offshore wind energy for Australia.

First, we examined locations considered feasible for offshore wind projects, namely those that were:

less than 100km from shore

within 100km of substations and transmission lines (excluding environmentally restricted areas)

in water depths less than 1,000 meters.

Wind resources at those locations totalled 2,233GW of capacity and would generate far more than current and projected electricity demand across Australia.

Second, we looked at so-called "capacity factor" – the ratio between the energy an offshore wind turbine would generate with the winds available at a location, relative to the turbine's potential maximum output.

The best sites were south of Tasmania, with a capacity factor of 80 percent. The next-best sites were in Bass Strait and off Western Australia and North Queensland (55 percent), followed by South Australia and New South Wales (45 percent). By comparison, the capacity factor of onshore wind turbines is generally 35–45 percent.

Average annual wind speeds in Bass Strait, around Tasmania and along the mainland's southwest coast equal those in the North Sea, where offshore wind is an established industry. Wind conditions in southern Australia are also more favorable than in the East China and Yellow seas, which are growth regions for commercial wind farms.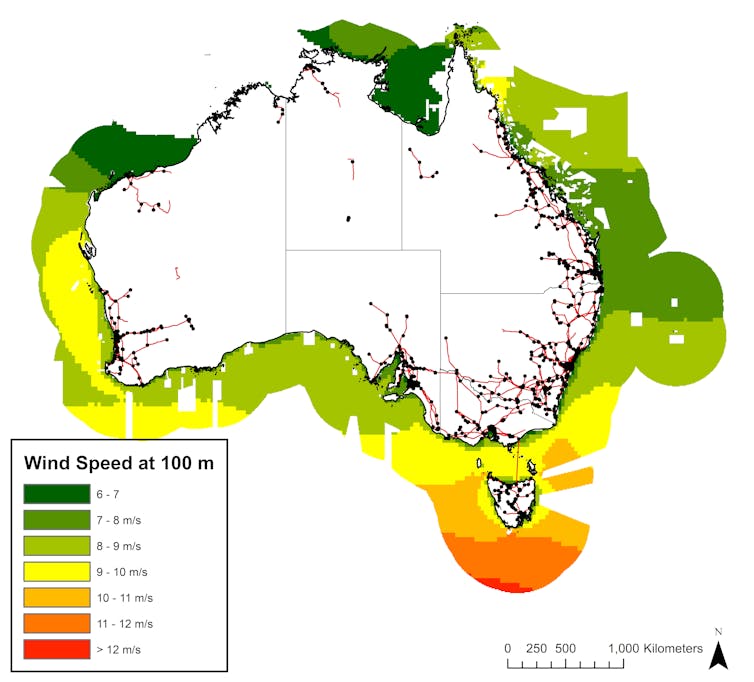 Average wind speed (meters per second) from 2010-2019 in the study area at 100 meters. Authors provided
Next, we compared offshore wind resources on an hourly basis against the output of onshore solar and wind farms at 12 locations around Australia.
At most sites, offshore wind continued to operate at high capacity during periods when onshore wind and solar generation output was low. For example, meteorological data shows offshore wind at the Star of the South location is particularly strong on hot days when energy demand is high.
Australia's fleet of coal-fired power plants is ageing, and the exact date each facility will retire is uncertain. This creates risks of disruption to energy supplies, however offshore wind power could help mitigate this. A single offshore wind project can be up to five times the size of an onshore wind project.
Some of the best sites for offshore winds are located near the Latrobe Valley in Victoria and the Hunter Valley in NSW. Those regions boast strong electricity grid infrastructure built around coal plants, and offshore wind projects could plug into this via undersea cables.
And building wind energy offshore can also avoid the planning conflicts and community opposition which sometimes affect onshore renewables developments.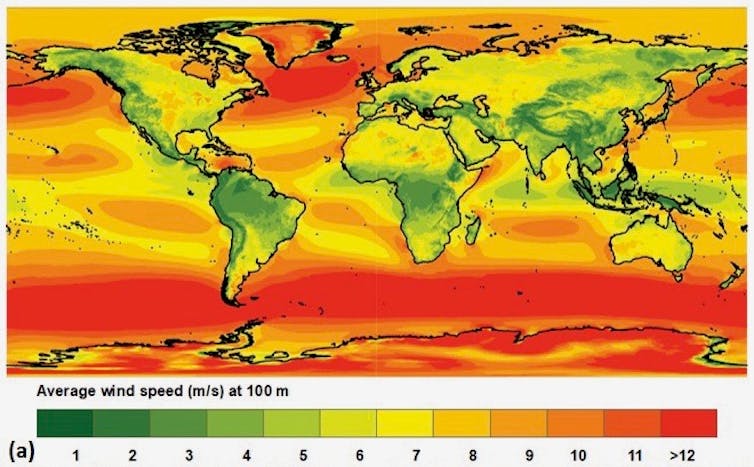 Global average wind speed (meters per second at 100m level. Author provided
Winds of change
Our research found offshore wind could help Australia become a renewable energy "superpower". As Australia seeks to reduce its greenhouse has emissions, sectors such as transport will need increased supplies of renewable energy. Clean energy will also be needed to produce hydrogen for export and to manufacture "green" steel and aluminium.
Offshore wind can also support a "just transition" – in other words, ensure fossil fuel workers and their communities are not left behind in the shift to a low-carbon economy.
Our research found offshore wind could produce around 8,000 jobs under the scenario used in our study – almost as many as those employed in Australia's offshore oil and gas sector.
Many skills used in the oil and gas industry, such as those in construction, safety and mechanics, overlap with those needed in offshore wind energy. Coal workers could also be re-employed in offshore wind manufacturing, port assembly and engineering.
Realizing these opportunities from offshore wind will take time and proactive policy and planning. Our report includes ten recommendations, including:
establishing a regulatory regime in Commonwealth waters
integrating offshore wind into energy planning and innovation funding
further research on the cost-benefits of the sector to ensure Australia meets its commitments to a well managed sustainable ocean economy.
If we get this right, offshore wind can play a crucial role in Australia's energy transition.
Sven Teske is Research Director, Institute for Sustainable Futures, University of Technology Sydney.
Chris Briggs is a Research Principal, Institute for Sustainable Futures, University of Technology Sydney.
Mark Hemer is a Principal Research Scientist, Oceans and Atmosphere, CSIRO.
Philip Marsh is a Post doctoral researcher, University of Tasmania.
Rusty Langdon is a Research Consultant, University of Technology Sydney.
This article appears courtesy of The Conversation and may be found in its original form here.

Go to Source
Author:

[By Sam Purkis]

The Chagos Archipelago is one of the most remote, seemingly idyllic places on Earth. Coconut-covered sandy beaches with incredible bird life rim tropical islands in the Indian Ocean, hundreds of miles from any continent. Just below the waves, coral reefs stretch for miles along an underwater mountain chain.

It's a paradise. At least it was before the heat wave.

When I first explored the Chagos Archipelago 15 years ago, the underwater view was incredible. Schools of brilliantly colored fish in blues, yellows and oranges darted among the corals of a vast, healthy reef system. Sharks and other large predators swam overhead. Because the archipelago is so remote and sits in one of the largest marine protected areas on the planet, it has been sheltered from industrial fishing fleets and other activities that can harm the coastal environment.

But it can't be protected from climate change.

In 2015, a marine heat wave struck, harming coral reefs worldwide. I'm a marine biologist at the University of Miami's Rosenstiel School of Marine and Atmospheric Science, and I was with a team of researchers on a 10-year global expedition to map the world's reefs, led by the Khaled bin Sultan Living Oceans Foundation, wrapping up our work in the Chagos Archipelago at the time. Our report on the state of the reefs there was published in spring 2021.

As the water temperature rose, the corals began to bleach. To the untrained eye, the scene would have looked fantastic. When the water heats up, corals become stressed and they expel the tiny algae called dinoflagellates that live in their tissue. Bleaching isn't as simple as going from a living coral to a bleached white one, though. After they expel the algae, the corals turn fluorescent pinks and blues and yellows as they produce chemicals to protect themselves from the Sun's harmful rays. The entire reef was turning psychedelic colors.

That explosion of color is rare, and it doesn't last long. Over the following week, we watched the corals turn white and start to die. It wasn't just small pieces of the reef that were bleaching – it was happening across hundreds of square miles.

What most people think of as a coral is actually many tiny colonial polyps that build calcium carbonate skeletons. With their algae gone, the coral polyps could still feed by plucking morsels out of the water, but their metabolism slows without the algae, which provide more nutrients through photosynthesis. They were left desperately weakened and more vulnerable to diseases. We could see diseases taking hold, and that's what finished them off.

We were witnessing the death of a reef.

Rising temperatures increase the heat wave risk

The devastation of the Chagos Reef wasn't happening in isolation.

Over the past century, sea surface temperatures have risen by an average of about 0.13 degrees Celsius (0.23 F) per decade as the oceans absorb the vast majority of greenhouse gas emissions from human activities, largely from the burning of fossil fuels. The temperature increase and changing ocean chemistry affects sea life of all kinds, from deteriorating the shells of oysters and tiny pteropods, an essential part of the food chain, to causing fish populations to migrate to cooler water.

Corals can become stressed when temperatures around them rise just 1 C (1.8 F) above their tolerance level. With water temperature elevated from global warming, even a minor heat wave can become devastating.

These events and rising global temperatures are why the International Coral Reef Society, which represents thousands of coral scientists, issued an urgent call to governments on July 20, 2021, to do more to protect coral reefs. As part of its report on the state of the world's reefs, it listed ways to help reefs survive, including investing in conservation, management and restoration; committing to slow climate change, reduce pollution and stop overfishing; and supporting efforts to help corals adapt to warming waters. With swift action to slow climate change, the group writes, about 30 percent of reefs could survive the century; if global temperatures rise by 2 C (3.6 F) or more, only about one percent will still exist. At stake is an estimated $10 trillion in annual economic value and coastline protection.

In 2015, the ocean heat from a strong El Niño event triggered the mass bleaching in the Chagos reefs and around the world. It was the third global bleaching on record, following events in 1998 and 2010.

Bleaching doesn't just affect the corals – entire reef systems and the fish that feed, spawn and live among the coral branches suffer. One study of reefs around Papua New Guinea in the southwest Pacific found that about 75 percent of the reef fish species declined after the 1998 bleaching, and many of those species declined by more than half.

Research shows marine heat waves are now about 20 times more likely than they were just four decades ago, and they tend to be hotter and last longer. We're at the point now that some places in the world are anticipating coral bleaching every couple of years.

That increasing frequency of heat waves is a death knell for reefs. They don't have time to recover before they get hit again.

Where we saw signs of hope

During the Global Reef Expedition, we visited over 1,000 reefs around the world. Our mission was to conduct standardized surveys to assess the state of the reefs and map the reefs in detail so scientists could document and hopefully respond to changes in the future. With that knowledge, countries can plan more effectively to protect the reefs, important national resources, providing hundreds of billions of dollars a year in economic value while also protecting coastlines from waves and storms.

We saw damage almost everywhere, from the Bahamas to the Great Barrier Reef.

Some reefs are able to survive heat waves better than others. Cooler, stronger currents, and even storms and cloudier areas can help prevent heat building up. But the global trend is not promising. The world has already lost 30 percent to 50 percent of its reefs in the last 40 years, and scientists have warned that most of the remaining reefs could be gone within decades.

While we see some evidence that certain marine species are moving to cooler waters as the planet warms, a reef takes thousands of years to establish and grow, and it is limited by geography.

In the areas where we saw glimmers of hope, it was mostly due to good management. When a region can control other harmful human factors – such as overfishing, extensive coastal development, pollution and runoff – the reefs are healthier and better able to handle the global pressures from climate change.

Establishing large marine protected areas is one of the most effective ways I've seen to protect coral reefs because it limits those other harms.

The Chagos marine protected area covers 250,000 square miles with only one island currently inhabited – Diego Garcia, which houses a U.S. military base. The British government, which created the marine protected area in 2010, has been under pressure to turn over control of the region to the country of Mauritius, where former Chagos residents now live and which won a challenge over it in the International Court of Justice in 2020. Whatever happens with jurisdiction, the region would benefit from maintaining a high level of marine protection.

A warning for other ecosystems

The Chagos reefs could potentially recover – if they are spared from more heat waves. Even a 10 percent recovery would make the reefs stronger for when the next bleaching occurs. But recovery of a reef is measured in decades, not years.

So far, research missions that have returned to the Chagos reefs have found only meager recovery, if any at all. We knew the reefs weren't doing well under the insidious march of climate change in 2011, when the global reef expedition started. But it's nothing like the intensity of worry we have now in 2021.

Coral reefs are the canary in the coal mine. Humans have collapsed other ecosystems before through overfishing, overhunting and development, but this is the first unequivocally tied to climate change. It's a harbinger of what can happen to other ecosystems as they reach their survival thresholds.

Prof. Sam Purkis is Chair of the Department of Marine Sciences at the University of Miami.

This article appears courtesy of The Conversation and may be found in its original form here.

Go to Source
Author:

A court in Lagos, Nigeria has sentenced 10 pirates to prison for the kidnapping of the crew of the fishing vessel Hailufeng II last year.

The Chinese fishing trawler Hailufeng 11 was captured by pirates on May 14, 2020 within the Ivorian EEZ. She had 18 crewmembers aboard, including  eight Chinese nationals, seven Ghanaians and three Ivorians.

Multiple Gulf of Guinea coastal states participated in tracking the vessel using mechanisms set up under the Yaoundé Architecture for Maritime Security. In a rare victory, the Nigerian Navy was able to interdict the Hailufeng 11 at a position about 140 nautical miles south of Lagos, arriving about two days after the hijacking.

The Nigerian patrol vessel NNS Nguru conducted the intercept, and when it approached, the pirates refused to stop. The Nigerian Navy's Special Boat Service conducted an opposed boarding while underway at about nine knots. The rescue was successful and all 18 hostages were recovered. 10 pirates were arrested and the vessel was safely escorted into Lagos.

An arrest and trial for piracy is a rare development in West Africa, the maritime kidnapping capital of the world. The 12-year prison sentence sends a new message to Nigerian pirate action groups, which have long operated with impunity from bases in the lightly-governed, economically underdeveloped Niver River Delta.

In addition to their prison sentences, the convicts will have to pay $600 per count for three counts of piracy each. They are expected to appeal their convictions.

Go to Source
Author:

UK-based engineering firm Unitrove is planning on expanding its portfolio to include a liquid hydrogen bunkering terminal, which it believes will be the first of its kind in the world.

Unitrove was the developer of the UK's first LNG bunkering terminal, which opened in 2015 with support from Shell. The company is an active promoter of dual-fuel technology for all modes of transport, and it is now working to build the world's first liquefied hydrogen (LH) bunkering facility for fueling zero-emission ships. The company also plans to build the world's first liquefied-to-compressed gaseous hydrogen (L-CGH) bunkering facility, which would allow it to service vessels built with less costly compressed-H2 fuel handling equipment.

According to Unitrove, investing in H2 bunkering facilities will be an essential part of moving the energy transition forward. "Today, hydrogen fuelling infrastructure for ships is non-existent, and there will be no drive for zero-emission ships without zero-emission bunkering infrastructure," the firm said in recent testimony to the UK Parliament.

On Friday, the company announced that it plans to showcase its bunkering technology at the UN COP26 conference, which will be held in Glasgow in November.

"We already see very early signs of light-duty vessels being battery-driven or powered by compressed gaseous hydrogen, but liquid hydrogen will allow us to serve the heavier portion of the shipping fleet where we hope to have a much larger impact," Unitrove CEO Steven Lua told H2-View. "We are also exploring options including ammonia, liquid organic hydrogen carriers, and solid hydrogen in the form of sodium borohydride."

Unitrove has stiff competition if it wants to build the world's first H2 bunkering facility. Norway is developing the world's first ferry powered by liquefied hydrogen, the MF Hydro, which is due to be ready in late 2021. It will run on green hydrogen supplied from an electrolyzer plant in Germany. Industrial gas supplier Linde, which will be providing the fuel, is building out the shoreside bunkering and distribution facility that will supply its operations.

In Japan, Kawasaki Heavy Industries recently built the world's first liquefied hydrogen carrier, Suiso Frontier, and Japanese shipbuilder Tsuneishi Facilities and Craft built a new hydrogen ferry, the unusually-named Hydro Bingo. NYK, MOL, Kawasaki Heavy Industries and Yanmar also have H2-powered ferry projects in the works, and CMB has partnered with Tsuneishi to build a groundbreaking hydrogen-powered tugboat.

Go to Source
Author:

The technology group Wärtsilä will supply the steerable and tunnel thrusters for two new wind farm turbine installation vessels being built for the China Three Gorges Corporation (CTGC), a China state-owned power company. The ships will serve China's expanding offshore wind power sector. The orders were placed by CSSC Huangpu Wenchong Shipbuilding Co, the yard building a 2000-ton wind turbine installation vessel (WTIV), and by China Merchants Heavy Industry (Jiangsu) Co, the yard building a 3000-ton heavy lift vessel. The orders with Wärtsilä were placed in May 2021.TheWärtsilä thruster solutions provide the level of performance required to ensure optimal positioning for offshore installation vessels regardless of the sea and weather conditions. Furthermore, the weight of onboard equipment is an important consideration for jack-up vessels, and the compact Wärtsilä thruster package saves weight without compromising performance.

"Wind power is becoming increasingly important for China, and we are building these two ships on a fast-track schedule to support this programme. We appreciate Wärtsilä's ability to deliver the thrusters in line with our timetable. Their local engineering and project management assistance is of great value to us," says Mr. Wang Peng, Project Manager, China Three Gorges Corporation.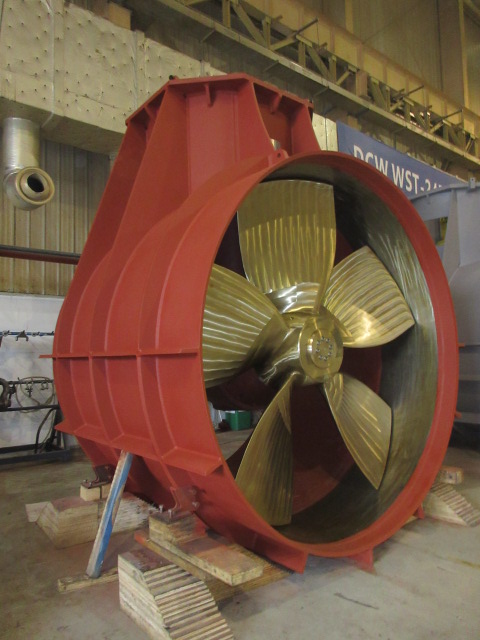 "We are proud to have been awarded the contracts for these new vessels. As with all Wärtsilä products and solutions, our thrusters are designed to ensure optimal efficiency, high hydrodynamic performance, less maintenance, and better accessibility for servicing. They reach and exceed the performance levels required in today's competitive operating environment," says Lauri Tiainen, Product Director Thrusters & Propulsion, Wärtsilä Marine Power. 

Each of the vessels will have an optimised thruster configuration consisting of WST-32FP main propulsion units and relevant WTT transverse thruster sizes. The future-proof design of the thrusters features high redundancy for less energy consumption, and proven reliability. They also comply with applicable environmental regulations with the use of Environmentally Acceptable Lubricants (EAL).

China is expected to boost its offshore wind power generation capacity to 50 gigawatts by the end of 2029. The aim is to reach ten percent of the country's total wind power generation capacity, which currently is at three percent.
 

Go to Source
Author:

Efforts are continuing to investigate the potential for the first large-scale offshore hydrogen park in Germany's region of the North Sea. Project partners RWE, Shell, Gasunie, and Equinor announced their intent to further intensify their collaboration on the project known as AquaSector that envisions the first large-scale German offshore hydrogen park. The project aims to demonstrate that offshore-based hydrogen production in Germany can enable an efficient, cost-effective, and sustainable way to produce green hydrogen.

The AquaSector project intends to install approximately 300 megawatt (MW) electrolyzer capacity to produce up to 20,000 tons per year of green hydrogen offshore. The green hydrogen is planned to be transported via a pipeline, called AquaDuctus, to the Heligoland industrial region of Germany starting in 2028.

The partners said that they see the AquaSector project also as a "proof of concept" for the realization of the vision of producing up to 10 gigawatts of green hydrogen offshore by 2035 and transporting it via an extended pipeline to mainland Germany.

Compared to the transport of electricity generated offshore, they believe that the hydrogen production at sea and the transport via pipeline could offer clear economic advantages. According to their calculations, the pipeline could replace five High Voltage Direct Current (HVDC) transmission systems, which would otherwise have to be built. It is by far the most cost-effective option for transporting large volumes of energy over long distances.

In announcing their efforts to increase the research, they said that this project can support the development of the market that will bring a rapidly increasing demand for green hydrogen. The first step in the AquaSector project for the partners is to carry out a detailed feasibility study. The study will provide important initial indications of the conditions under which the large-scale offshore hydrogen park can be successfully realized as well as the technical and commercial challenges which need to be overcome in regards to offshore hydrogen production.

 

Go to Source
Author:

A second-generation biofuel derived from waste vegetable oil is gaining traction in the UK's offshore wind industry, which – despite its solid green credentials – must still rely on diesel-powered crew transfer vessels (CTVs) and other workboats for its operations.

Hydrotreated vegetable oil (HVO) offers the drop-in replacement convenience of conventional biodiesel, but without the engine compatibility issues, bacterial degradation and water contamination often encountered with high-percentage blends of fatty-acid methyl ester (FAME) fuel. It is manufacturer-approved by several diesel builders, like Volvo Penta, which has given HVO the green light for use in its engines at blend ratios of up to 100 percent.

Since it is a simple and cost-effective way to achieve carbon emissions reductions, HVO is taking hold in the UK offshore wind service sector. Seacat Services has adopted a 30 percent HVO / diesel blend (HVO30) for use in its recently-overhauled CTV Seacat Enterprise. "Up to 96 percent of emissions from the offshore wind support sector are generated while our vessels are under charter, during which time the fuel choice is specified by the customer," said Seacat managing director Ian Baylis in a statement. "Updating Seacat Enterprise to the latest in high efficiency, high performance vessel design and running her effectively with HVO demonstrates to the industry what environmental improvements can be achieved now, with current technologies, while future solutions take shape."

Seacat's next generation of vessels will be considerably more fuel-efficient thanks to an optimized hull design and a specialized stability-enhancement system. With 30 percent operational fuel savings from these design improvements and (optionally) a 30 percent emissions reduction using an HVO30 blend, these vessels would be well on their way towards low-carbon operations.

ScottishPower Renewables is trialing a similar arrangement with CTV operator NR Marine Services. Under charter, NR Marine is providing vessel services for the East Anglia One farm using an HVO30 fuel blend.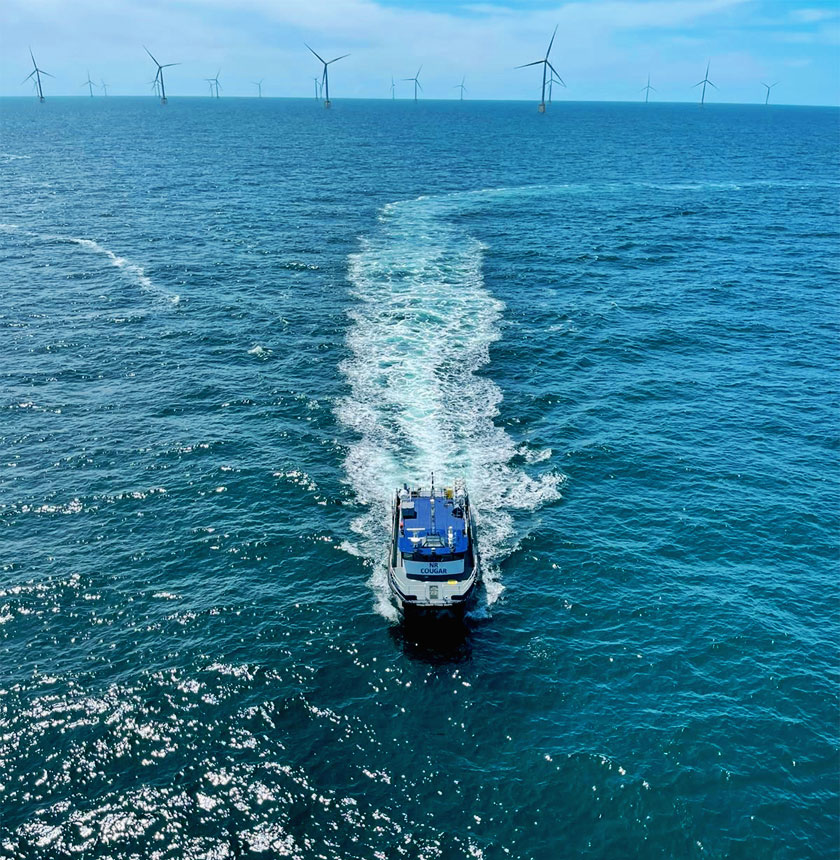 Courtesy ScottishPower

"Developing low emission vessels for use in operational windfarms is a real challenge for the industry and we're proud to be leading the way," said ScottishPower Renewables' East Anglia ONE Project Director, Charlie Jordan. "As we continue to work towards Net Zero – and with the UK hosting the COP26 UN climate change summit later this year – it's vital we all do our bit to ensure our operations are as sustainable as possible."

However, biofuel comes with its own sustainability challenges – even biofuel based on waste vegetable oil. The amount of available feedstock is limited and will be in high demand to decarbonize the hard-to-abate aviation sector in years ahead. The environmental NGO Transport & Environment has warned that adoption of vegetable oil-based biofuels into the European transport sector could accidentally draw in imported, unsustainable feedstocks – like plantation-grown palm oil or soybean oil – via fraudulent mislabeling in the feedstock country of origin.

"There are certain risks that [biofuel promotion policies] . . . could inadvertently cause the uptake of alternative fuels that are worse than [conventional] fossil fuels," the group warned. "Crop-based biofuels do not provide significant carbon reductions compared to fossil fuels, in most cases actually resulting in much higher emissions."

Go to Source
Author: